Bubbles of Champagne - Class & Dinning 英語でシャンパーニュを学ぼう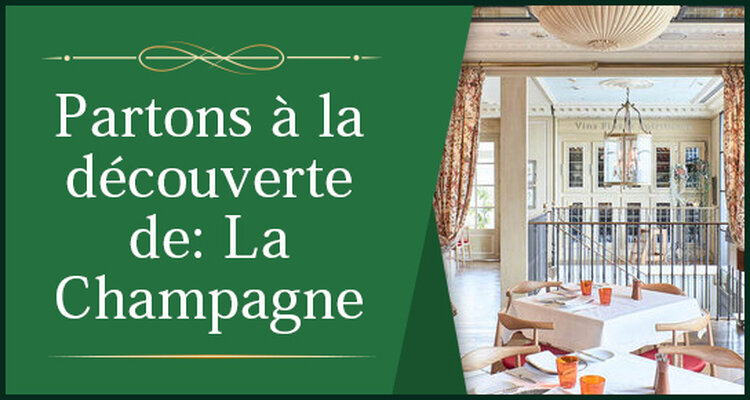 | | |
| --- | --- |
| 会場 | 青山 |
| 回数 | 全2回 |
| 定員 | 12 名 |
| 開講日 | 1/13 (金) |
| 催行決定日 | 1/6 (金) |
| 講師 | フレデリック・カユエラ |
| コース | 研究科コース |
| 備考 | 受講会場は回により異なります。第1回:青山校・第2回:Benoit |
講座概要
Philippe Wibrotte, spokeperson for the CIVC said: « Take Venice. The people were given a marsh and they built a glorious city. Here in Champagne, we were given a barren land… We also made something out of nothing. »
This turns out to be true because the chalky soils of Champagne, although resplendent in white, are anything but hospitable to the surrounding nature.
First exploited by the Romans for its properties useful for construction, as is the case for the Porte de Mars in Reims, over the centuries chalk has proven to be a major asset for viticulture in Champagne.
Indeed, its unique mineral properties contributing to the development of wines that are both fine and elegant, combined with the knowledge of the oenologist who tamed the bubbles inside the bottle, quickly captivated and conquered an admiring audience on the international scale.
Let's travel together in this fabulous region during a class at the academie du vin, followed by a fantastic wine and food pairing discovery at the restaurant.
Frédéric Cayuela DipWSET, DWS, CSW is French, wine teacher, candidate to become a Master of Wine, he possesses a Champagne Master Level and a Burgundy Master Level certifications, in addition to being a graduate of the Rivesaltes school of agriculture.
The "Bubbles of Champagne" class consists of 2 exceptional days:
During the first class you will discover with Frédéric, both the beauty and the particularities of the Champagne wine region.
The second class will take place in an excellent restaurant in Tokyo where you will have the chance to learn about the region while tasting food and wine pairings prepared by talented chefs.
講座日程
期間:全2回修了
※回によって曜日・時間が異なるクラスがあります。詳しくは各クラスをクリックしご確認ください。
1/13 (金) 開講クラス
金曜日 19:00~21:00  講師:フレデリック・カユエラ
第1回

2023/01/13 (金)  19:00~21:00

第2回

2023/01/20 (金)  19:00~21:00
※こちらの講座は振替制度対象外講座となります。
講師紹介
Meet Frédéric Cayuela, a French passionate wine lover and educator based in Japan. The tremendous Master of Wine title is set as Frédéric's ultimate life goal, however, after working over 11 years in this exciting and adventurous wine world, he managed to reach decisive milestones and to graduate from about 20 French & international wine diplomas and certifications among these: • Diploma WSET (Level 4), graduated with Merit. (DipWSET) • Graduated from Rivesaltes School of Agriculture in France. (DWS) • Certified Specialist of Wine from the Society of Wine Educators. (CSW) • Champagne Master Level holder, completion with Highest Honors. • 日本ワイン Vin Japonais movie main navigator. • European Grenache official representative in Japan. • WSET & French Wine Scholar Program Instructor. • Certified Whisky Ambassador. Frédéric was born in the Roussillon wine region, a region located in the South of France and sharing boundaries with Spain. A 2500 year old historical vineyard often blown by the challenging Tramontane wind, and surrounded by both the Mediterranean Sea and the intimidating peak Canigou in the Pyrenees mountain. When he was only 14 years old, during his very first grape harvest, Frédéric discovered the passion and the love for grape growing and wine making, on the other hand, he also learned both the value of the viticulture and the reward of patience in this challenging and arid region. With over 11 years of working experience in the wine industry, Frédéric now possesses a seasoned and a unique international background. Before moving to Japan, he worked as a wine advisor for the château Nadal Hainaut in France, and as a wine merchant, consultant, and educator in countries such as Taiwan and Singapore. Now settled in Tokyo, Frédéric is a devoted wine ambassador and collaborates with famous French restaurants and European programs by sharing his valuable knowledge and experiences about his native and other French wine regions.
費用
受講料

44,000円

(税込)

1回あたり22,000円(税込)×2回

お支払い
クレジットカード、銀行振込

※ はじめてお申し込みの場合は、登録料として5,500円(税込)を申し受けます。翌年以降は、年間更新料:2,200円(税込)となります。